We here at Moreland Neighborhood Dental have a lot to be thankful for. We wanted to reach out and say 'thanks' to you for supporting us in the past and into the next year.

November is National Diabetes Awareness Month
Is there an association between gum disease and diabetes?
For the nearly 30 million Americans who have diabetes, many may be surprised to learn about an unexpected complication associated with this condition. Research shows that there is an increased prevalence of gum disease among those with diabetes, adding serious gum disease to the list of other complications associated with diabetes, such as heart disease, stroke, and kidney disease.
People with diabetes are at an increased risk for serious gum disease because they are generally more susceptible to bacterial infection, and have a decreased ability to fight bacteria that invade the gums.
How can I prevent dental problems associated with diabetes?
First and foremost, control your blood glucose level. Then, take good care of your teeth and gums, along with regular checkups every six months. Good blood glucose control can also help prevent or relieve dry mouth caused by diabetes. -American Diabetes Association
Don't Forget National Flossing Day!
National Flossing Day is Friday November 24th, the day after Thanksgiving! Here are some tips to help ensure you are flossing efficiently: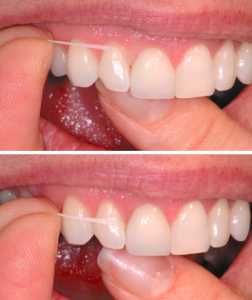 Pull 18 to 24 inches of dental floss from the floss dispenser.
Wrap the ends of the floss around your index and middle fingers.
Hold the floss tightly around each tooth in a C shape; move the floss back and forth in a push-pull motion and up and down against the side of each tooth.


Thank you for being such an important part of Moreland Neighborhood Dental. We love to see you smile!